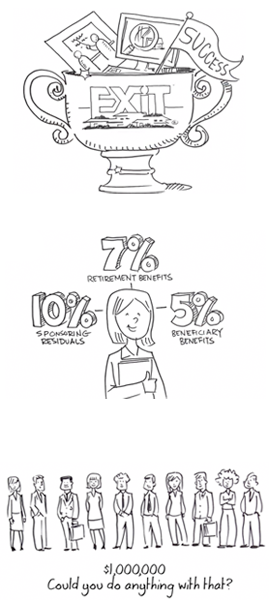 OUR GOAL IS TO MAKE YOU MONEY, NOT TAKE IT!
For example, you sponsor Johnny into Exit. He makes $50,000 in commission this year. That means that you, as the sponsor, will receive $5,000 this year in sponsorship residuals from the company just for bringing Johnny into Exit. Now just imagine if you sponsor 5 people all making $50,000 that year. That's an extra $25,000 in your pocket in one year! Once you retire, your portion of the sponsorship income will be 7%, and in the future, your family will receive 5% from every transaction that an agent makes that you sponsored into the company. You see, you do the work once, and you and your family will get paid for years. What can be better than that?
Our top-notch training system also allows us to stand out among other agencies. Our Exit Resource Center allows us to have access and communicate with some of the best real estate agents and trainers in the world. They share with you the secrets to getting started and their tickets to success. And our CEO at Exit Hodges Real Estate and at the International Exit Office can always be reached for questions. How many companies can say that their CEO often answers the phone? That's what makes Exit so special. We care about our clients and want them to have the best service experience.