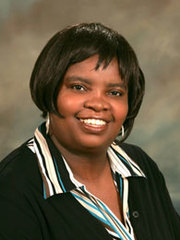 REALTOR
Office: 334-280-9074
Direct Line: 334-202-0516
Fax: 334-288-4233
Email Kaye
Kaye Green, a native of the historic town of Selma, Alabama attended and received her high school diploma from Selma High in 1990. Upon graduation she served in the Persian Gulf War as a Supply Specialist. After this mission she entered the University of Alabama in Huntsville, Alabama, where she completed the prerequisites for education. In 1996, she received a Bachelors of Science Degree from Alabama A & M University in Huntsville, Alabama. In 1998, she received my Masters of Education Degree from Alabama State University in Social Science Secondary Education. In 2005, she received her Real Estate License.
At this time she serves as a eleventh grade a US History teacher, and a mentor for teachers. She also has a compassionate for serving First Time Home Buyers in the River Region. She has record of success when it comes to meeting the needs of FTH Buyers and sellers. During the past years she has sold several properties including commercials. Her aspiration for business development and profit improvement has also inspired others in real estate industry.