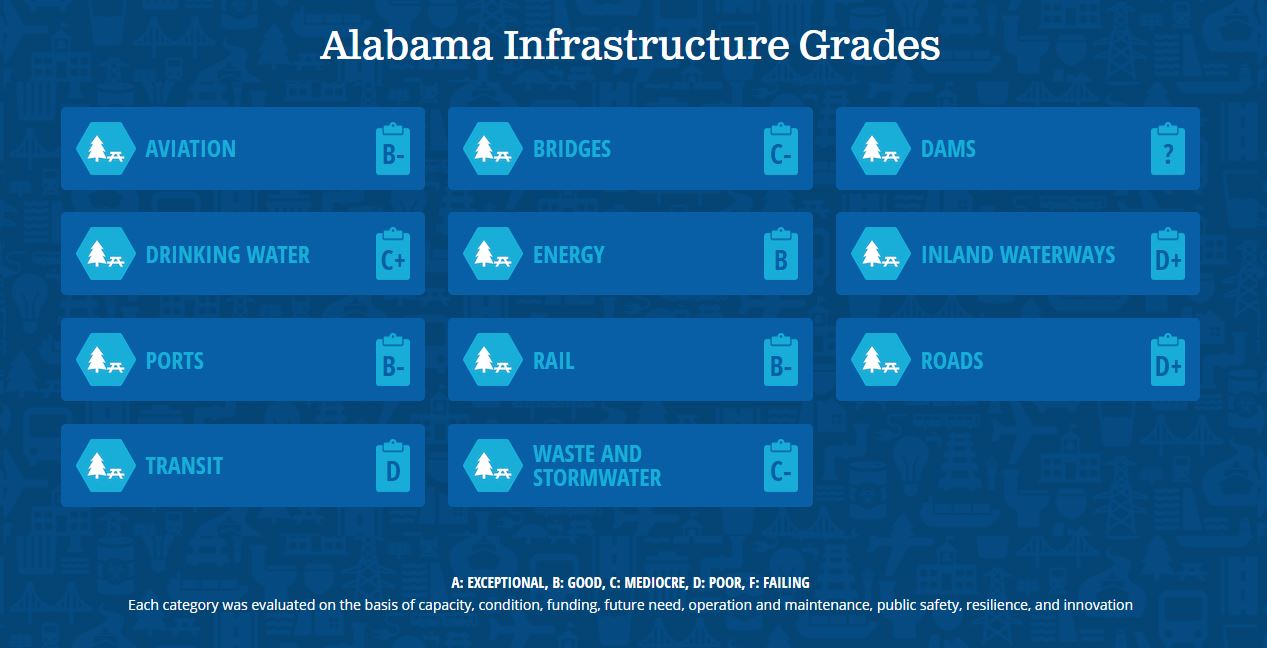 (Source: https://www.infrastructurereportcard.org/state-item/alabama/)
Though officials have been advising Alabama to better fund infrastructure improvements for decades', the February release for the "Logistics Infrastructure: Transformational Opportunities" added a level of importance. The report from the University of Alabama was co-authored by K.C. Conway, director of research and corporate engagement at the Alabama Center for Real Estate and research coordinator at ACRE, Stuart Norton.
The report has nine fundamental points:
The transportation statistics that validate a call to action on Logistics Infrastructure (LI) are compelling. Whether it's the 4.1 million miles of public roads requiring maintenance, 1.2 billion hours of annual delays for the trucking industry, the 17X increase in annual spending required to maintain the railroads, or e-commerce warehouse demand growing from less than 5 percent of industrial leasing a decade ago to 20 percent today, there is no doubt of the need for Logistics Infrastructure investment.
A horseless-carriage supply chain from the 1950s cannot support a modern e-commerce supply chain that is growing 25% - 30% per year. The age and state of our existing infrastructure is inhibiting future economic and real estate development, and forcing existing industry to relocate toward destinations that have modern LI.
"Build the Logistics Infrastructure and development will come" is not a cliché - it is transformational logistics in action today. Just as the steel and textile industries left the U.S. in the 1970s & 1980s in pursuit of cheap labor abroad, retail, distribution, and manufacturing businesses are at risk of leaving cities and states that don't invest in LI and update aging infrastructure.
LI is driving the "why" and "where" decisions for commercial real estate development. Examples of this transformation in action are the locations of new Amazon and Wal-Mart fulfillment centers developing near intermodal - places like Bessemer and Mobile, Ala.; Ohio; Polk County, Fla.; and, Tucson, Ariz. One can also look to the locations for new aircraft, auto and machinery manufacturing plants in Alabama, Georgia, South Carolina and Texas.
The shift from shop-and-take-home to online-order and-deliver will result in less retail store square footage, but the tradeoff will be many new fulfillment centers and warehouses aligned with new LI. E-commerce fulfillment centers will displace one-third of America's 1,100 malls.
The development metrics by the major commercial real estate brokerages suggest a boom is ahead for new industrial warehouse development. Warehouse is the new department store or retail big-box due to e-commerce. Demand/absorption still exceeds supply resulting in another 800,000 to 1 billion square feet of new development across the U.S. over the next 3 years.
Today the margins for Online-Shop-and-Deliver do not beat Shop-and-Take-Home, but retailers will not reverse course from e-commerce. Retailers will double-down on technology and LI to get the margins right.
Reliance on the federal government fund to Logistics Infrastructure for port projects, rail, intermodal or needed supply chain components is too lottery-like a strategy to fund our economy's circulation system. Of the billions of dollars available annually to fund our ports and inland waterways via the Harbor Maintenance Trust Fund, only 10 percent of yearly balances are distributed to ports.
The time has come to rank our North American ports based on a more dynamic method than the current single variable of TEU container count. A model that calibrates factors like port depth, Class I rail connectivity, number of PPMX Gantry Cranes, usage by Shipping Alliances, etc. should be used.
The importance of maintaining what we have is crucial in developing further growth and prosperity for the State of Alabama. That maintenance will bring business, which will bring jobs, which will create opportunities throughout our state and beyond. Check out the other related material below.
Other Related Material:
Alabama Transportation by the Numbers - February 2019
TRIP releases new report on Alabama road and bridge conditions: Alabama motorists are paying $5.3 billion annually in vehicle operating costs
Alabama's logistics infrastructure found lacking in new report